| before | after |
| --- | --- |
| | |
Review of my new 1911, a Springfield Armory PX9154L, or if you like long names, "Tactical Combat Black Stainless Steel Custom Loaded 1911-A1".

The pictures just don't do either of them justice!
Springfield Armory 1911-A1
The basic setup is a Springfield Armory PX9154L. (Updated link, the link goes to the 'LP' version, which is the closest but not exactly same one as mine)

The only modifications i've done is to swap out the standard grips with some Hogue rubber wraparound ones. They make the grip a little bit wider and have finger grooves. I like them. The 1911 "purists" will definately disagree with my choice, though! After the initial breakin shooting it a couple weekends, I went shooting almost every week before i went to my gamedev class. I put somewhere between 100 and 200 rounds through it every week for like 8 weeks. Through all of those rounds, i've had like 5 failures to eject. Its been super reliable, and i'm using the cheapo winchester white box ammo from walmart! It sure gets dirty fast, though!
r accuracy, i can tell you that its more accurate than I am! Here's some pics from my camera phone from the range: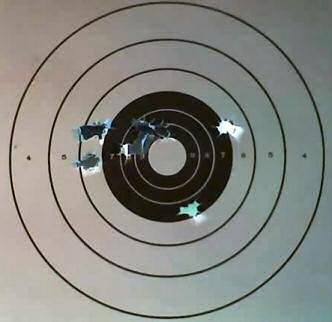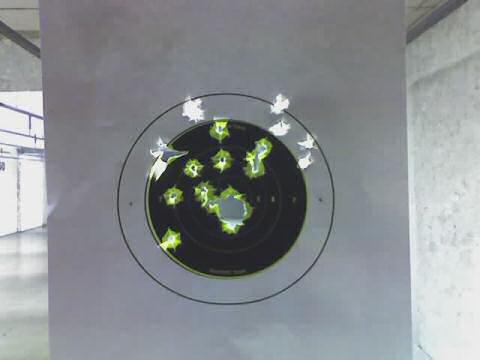 I'm pretty sure that the first pic is 10 rounds from 10 yards. The second is probably 17 rounds (7+10 rnd mags). it might be 7+7+10, it might be 7+7+10+10, not sure. I should write that down :). Even out to 40 feet, 50 feet i can hit the big shoot-n-c sized target pretty much all of the time. Considering i've only been shooting handguns for about 6 months, i think its not too shabby!
Marvel Precision .22LR Conversion Kit
Here's the link to my review of the marvel .22 conversion kit